Maileg Sleepy Mice
Sleepy Mice wear either a darling pink nightgown with lace details and bloomers underneath for the medium sister mouse or a soft floral nightgown with lace detailing that ties at the front in a sweet bow for the maxi sister. The medium and the maxi brother mice each come in a sleepy blue two-piece pajama set with off-white stripes. Their reversible sleeping masks are purple paisley for sister and mint dots for the brothers, both with sleepy eyes and an elastic band, so it stays on while they sleep. Their night clothes are light and breathable so they can stay cool while sleeping, even on a hot summer's night.

Medium Mice measure about 12.20", Maxi Mice measures about 19.29"

Materials include cotton. Sold individually.
About The Designer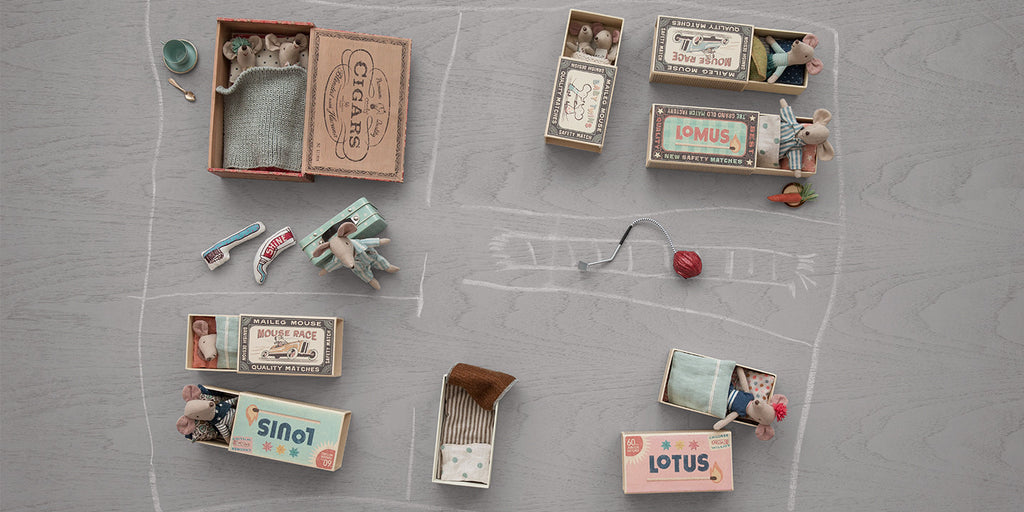 Maileg is a Danish children's design brand established in 1999 by Dorthe and Erik Mailil. Maileg designs are amusing and playful with whimsical touches of old fashioned Scandinavian and French looks. Dorthe Mailil has created all of the Maileg product line since 1999 – with her unique touch and expression. She creates toys to pass on to the next generation in hopes that these designs will inspire the creative imaginations of kids every time they play with a Maileg toy.