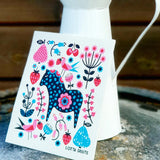 Lotta Spjute Swedish Dish Cloths
Swedish cellulose dish cloth with designer print in eco friendly dye.
Choose between the Momma-Loo the bull terrier or Dala Horse.

These are highly popular little gifts, why not send it instead of a card ? You can write on the back of these cellulose dishcloths no problem. 
Details
Material: cellulose and cotton blend; soaks up to 15x its own weight
Care: Machine washable, compostable
Dimensions: 8" L x 6" W