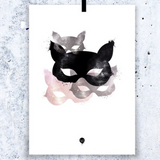 Lovedales Studio Copy Cat Poster
Lovedales Studio, a Norwegian graphic design and illustration company was started by Hanne Løvdal in 2013 in order to pursue her love of drawing - and we're glad that she did! Her prints incorporate beautifully executed illustration with fun and youthful imagery.
Details
The Copy Cat print comes in 3 sizes:
Small - 8.25" x 11.75"
Medium - A3 11.7 x 16.5 inches
Large - 19.7 x 27.5 inches.