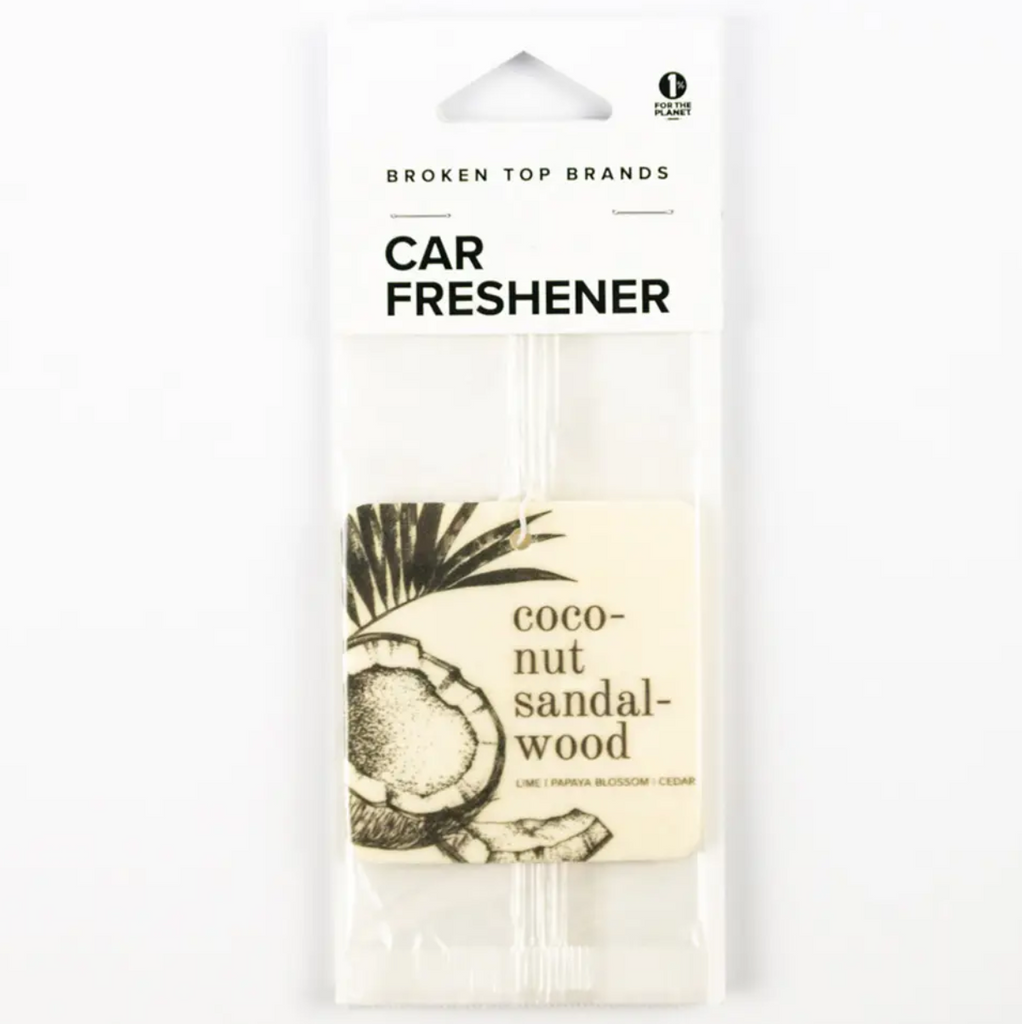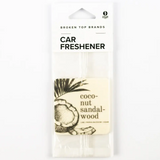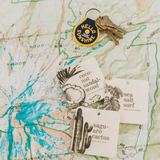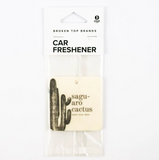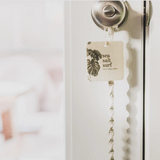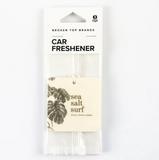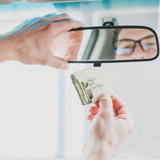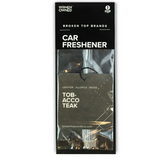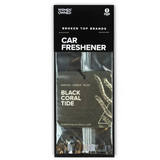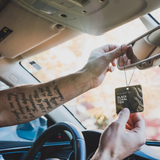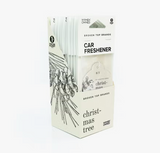 Broken Top Car Fresheners
Broken Top's car fresheners are great for hanging on the rear-view mirror and in other small spaces, these car fresheners are perfect for freshening up on the go.

16oz.
Choose from:
Coconut Sandalwood: Summer has arrived! This coconut base is sweet and creamy, while the lime and papaya blossom notes are equally wild and fresh. Finished with a hint of cedar, coconut sandalwood is distinctly smooth and grounded. Take your favorite b|t scent on the road with you wherever you go! Great for hanging on the rear-view mirror and in other small spaces.
Saguaro Cactus: A spicy floral creation made of cactus jade flower, agave, moss, and aloe. This scent is a true representation of walking into a florist shop and experiencing the aroma of fresh-cut flowers, stem trimmings, and botanical-soaked water. Light, fresh, and floral for summer.

Sea Salt Surf: This top-selling scent! Flaunts notes of jasmine followed by sweet cream and a hint of driftwood. Jasmine emits the perfect flowery bridge between sweet and salty, adding crisp foliage notes to this beachy scent. Summer in a nutshell.

Tobacco Teak: Bold and complex, tobacco teak is an eclectic combination of spices from the west indies mixed with tropical hardwoods native to southeast asia. Spicy like clove yet sweet like a tobacco leaf, offering notes of full-grain leather.

Black Coral Tide: Mysterious and deep, black coral tide touches on sweet, musky notes that are reminiscent of high-end colognes. Harnessing that "clean" scent it might as well have the naturally self-cleansing properties of the ocean.

Christmas Tree: *LIMITED INVENTORY* The closest thing to a pine tree you'll find without sniffing the real thing. Both festive and woodsy, it smells like you're in a tree lot, picking up the perfect fir. Enjoy the holidays with this classic, bold blend of fir, eucalyptus and a hint of holly berries. This ornament shaped air freshener is the perfect stocking stuffer for Christmas gifts! Great for hanging on the rear-view mirror and in other small spaces.
Duration: 3-6 weeks based on use and environmental factors. Avoiding high automobile interior temperatures as well as prolonged open window time can greatly increase longevity.
Instructions: while designed for cars, these fresheners are suitable for any small space including closets & bathrooms. Allow freshener to hang freely. To control fragrance cut along the top of plastic bag and expose a small portion of the freshener. Expose more of the freshener as needed. 
ingredients: paper board, fine fragrance oils.