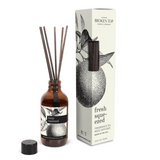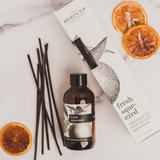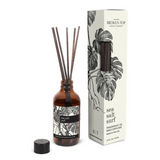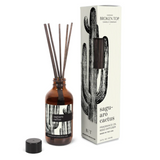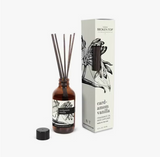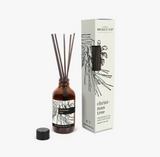 Broken Top Frangrance Reed Diffuser
These lovely reed diffusers come in a beautiful vessel that efficiently distributes fragrance over a long period of time. Just set it and forget it for a long-lasting, flameless fragrance.
Choose between Fresh Squeezed, Sea Salt Surf or Saguaro Cactus
3.5 oz.
Fresh Squeezed: Meandering through a citrus grove with a warm, southern breeze somersaulting through the trees. Bold bergamot and tangy blood orange merge with balancing cedar in this citrus sensation.
Sea Salt Surf: Strolling along the beach on a crisp morning, sea salt kissing the wind. Flowery jasmine followed by sweet cream blends with beachy driftwood in this fresh, yet alluring scent.
Saguraro Cactus: Walking into a florist shop to the aroma of fresh-cut flowers, stem trimmings, and botanical-soaked water. Fresh agave & aloe combine with earthy moss to create this natural and untamed scent.
Cardamom Vanilla: Our Cardamom Vanilla scent boasts notes of tonka, cedar, and a hint of spice, creating a lightly spiced addition to classic vanilla. The perfect scent for the Fall season and a wonderful Christmas gift.
Christmas Tree: The closest thing to a pine tree you'll find without sniffing the real thing. Both festive and woodsy, it smells like you're in a tree lot, picking up the perfect fir. Enjoy the holidays with this classic, bold blend of fir, eucalyptus and a hint of holly berries.