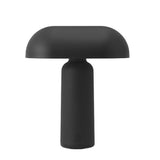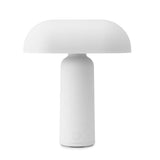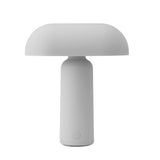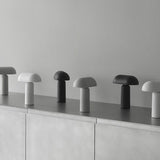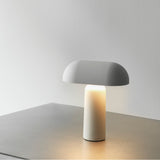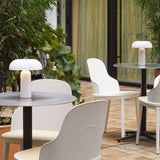 Normann Copenhagen Porta Table Lamp
The Porta Table Lamp consists of a lamp shade resting on a sturdy, rounded base, both of which are made from ABS plastic. A white, acrylic inner screen ensures a pleasant and even glow.
 A silicone base ring allows the lamp to stand securely. 
Characterized by its rounded, organic design cues, the cylinder base and elongated dome shape of the lamp shade contribute to an aesthetic cohesiveness. The distinctive lamp shade is designed to accommodate the need for pleasant, atmospheric lighting in smaller settings. When turned at a 90-degree angle, the lamp shade takes up less space, allowing it to easily fit into compact spaces such as windowsills, small café tables, or shelves. 
Porta's flexibility is further emphasized by its mobility. The cordless and lightweight design enables you to bring the lamp from the kitchen to the garden to your favorite reading nook. A touch-sensitive dimmer allows for three different light settings depending on the desired atmosphere, while a discreet USB charging cable ensures easy charging. Porta will provide a cozy light in any setting and fits seamlessly into commercial and residential spaces alike. 
Size & Weight:
H: 23.5 x W: 20.2 x D: 11.2 x Ø: 6,5 cm
0.49 kg
Materials:

ABS plastic and acrylic
Light source:
Porta comes with a permanently integrated, rechargeable, low-energy LED light source which has 3 light intensity levels: 100%, 70% and 40% and a battery life of 8 hours, 24 hours, and 90 hours, respectively. The lamp comes with a USB charging cable with a length of 1 meter. 
About The Designer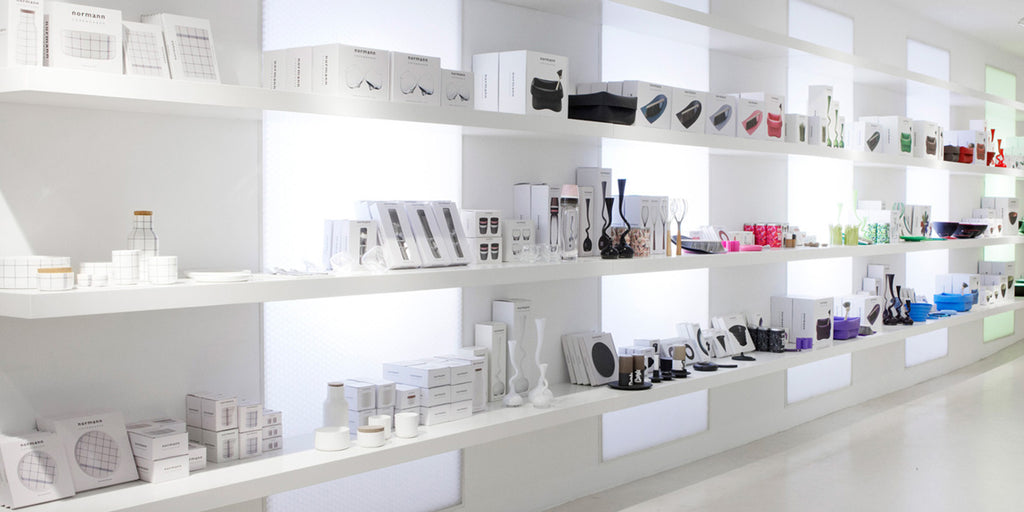 Normann Copenhagen is a Danish design firm that produces innovative and high quality design products in cooperation with world-renowned designers. The brand believes in creating original, bold and eye-catching products in a simple and contemporary design that withstands the test of time. The goal, in other words, is to challenge conventional thinking and make the ordinary extraordinary through great and innovative design. Their range consists of versatile furniture, sculptural lighting and clever accessories.